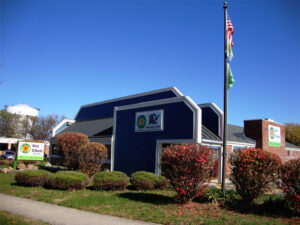 Animal M.D. Veterinary Clinic has been proudly serving Kettering, Oakwood and Belmont since 1957. We are a full service veterinary clinic for cats and dogs in the Dayton area. Previously owned by Dr. Darrel Apt, our clinic has a long standing reputation as a Dayton veterinarian with a friendly yet professional atmosphere, under the name of Apt Veterinary Clinic. In 2005 Dr. Michelle Bahns bought the practice and changed its name to Animal M.D. Veterinary Clinic.
After many years at our location on the corner of Smithville and Wilmington Pike, we moved into our new home in October of 2011. Our new home is more convenient, larger and now we have Lucky Dog Daycare. The daycare is great for socialization, exercise and just lots of fun.
Animal M.D. Veterinary Clinic is committed to providing excellent veterinary care with an emphasis on preventative medicine and client education. We offer our clients and patients a friendly atmosphere of compassion, kindness and integrity.
Animal M.D. Veterinary Clinic is located at 2624 Wilmington Pike, Dayton OH 45419