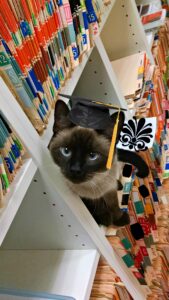 It's me, Macchi, and I want to discuss a dangerously sweet issue, Diabetes. November is National Diabetes month and I wanted to give all of my furry friends and their lucky owners some of the signs, treatment and complications of diabetes.
Kitties, do you feel the need to drink lots of water, even though you normally don't like to get your whiskers wet? Running down the stairs more often to scratch that litterbox? Demanding more food (well, we all know our pet parents don't feed us like we feel we need to be fed) but losing weight. Our lounging around time seems longer than normal. These could be signs of diabetes.
Doggies, we all know you like to play in your water, but if you feel the need to drink all that water in one sitting. Gobble up your food but your hips are starting to show. Give your pet parents the "I need to go out" signal more often and don't feel like going that extra block on your walk, then you could have diabetes.
If your pet parent notices any of these signs they should get you to your favorite veterinarian for an exam. Your veterinarian should run some bloodwork, I know that dreaded bloodwork and check your urine for infection and sugar in your urine. If diabetes is diagnosed, then treatment should begin as soon as possible.
Controlling diabetes can be difficult, but once you hit that magic number that keeps you feeling like your old self, it will be all worth the trouble. Treatment includes insulin injections and diet change. It may sound scary, injections every day, but let your pet parent know it is pretty easy. Once your diet is changed and your insulin started, you will probably have to spend a day at your veterinarians for a glucose curve. That's when they check your blood glucose level every hour to make sure you are receiving enough insulin. The blood sample usually comes from a prick in your ear so it's not a big needle for each blood sample. Depending on the response your veterinarian is seeing, your insulin dose may change or stay the same.
For doggies, once they are diagnosed with diabetes they must be treated for the rest of their lives. With kitties, sometimes they are able to control their diabetes with just diet change. It is very important to continue to monitor your blood glucose level because with kitties we can need insulin at one point, then all of the sudden not need insulin. If you receive insulin and your blood glucose is already low, you can cause a very dangerous condition needing emergency care.
Untreated and uncontrolled diabetes can cause, cataracts, chronic urinary tract infections, general poor body condition and even death.
So remember, anytime your purr isn't just right or your bark is less than loud, it's time to visit your veterinarian. We can't tell our pet parents we don't feel well, but we can give them the signs that we are not feeling purrfect.
Macchi